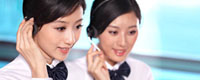 Name: Jet Qu
Tel: 0556-4653308
Mobile: 18056455811
E-mail: info@sohpacking.com
Add: Huaining Industrial Zone, Anqing City, Anhui Province PRC
Skype: sundries1_fy



Product name : Double wall style 12 oz disposable paper coffee cup

Product No. : 2018112310253
Details:
Double wall 12 oz hot disposable paper coffee cup
1.Competitive price and excellent quality.
2. Many different colors and size available.
3. Various type, single/ double/ ripple wall available.
4. Produce and market all by ourselves.
5. Different quality according to your target price.
6. OEM welcomed.
7. More product styles on our website.
Product size
Single wall paper cup

Description

Top(mm)

Bottom(mm)

Height(mm)

Material

4 oz

63

44

63.5

190g Paper+18g PE

6.5 oz

72

52

76

190g Paper+18g PE

8 oz

80

55

90

300g Paper+18g PE

10 oz

90

59

94

300g Paper+18g PE

12 oz

90

57

112

300g Paper+18g PE

16 oz

90

58

134

300g Paper+18g PE

20 oz

90

63

149

300g Paper+18g PE

24 oz

90

63

177

300g Paper+18g PE

Double wall paper cup

Description

Top(mm)

Bottom(mm)

Height(mm)

Paper Weight (inner/outer)

8 oz

80

55

90

280g+250g

12 oz

90

60

110

300g+250g

16 oz

90

59

134

300g+250g

Ripple wall paper cup

Description

Top(mm)

Bottom(mm)

Height(mm)

Paper Weight (inner/outer)

8oz

78

56

92

320+18g/140+120g

9oz

75

53

90

320+18g/140+120g

12oz

89

58

111

320+18g/140+120g

16oz

89

56

134

320+18g/140+120g

20oz

89

61

150

320+18g/140+120g